Tai Chi Qigong & Taoist Enlightenment tour 2015
Celebration and commemoration of 100th Birthday
of Late Grand Master Li Tian Ji
Creator of Beijing 24 Step Simplified Taijiquan
22nd March - 8th April 2015
10 Days or 15 Days from £1095.00 including international flights
with Hong Kong Extension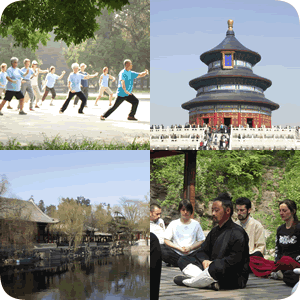 Beijing / Bai Yang Dian Lotus Lake / Wudang Mountain / Hong Kong 
Indepth Tai Chi & Qigong Training with World     Famous Professor Li De Yin & his team
Study with Taoist monk on Taoism - Philosophy     & Relationship with nature
Practise Tai Chi Qigong & Meditation on birth      place "Mt. Wudang"
Meet local & international enthusiasts and experience Tai Chi Finesse of         China.
Fantastic sightseeing and visit the the east & west of China.
Early Booking discounts available
This trip is very popular early booking is must. .....Detail is now available Click here for detail